I pause for a moment to look at the crucifix hanging above my bed
and I sigh, "Home."
My heart and soul are at peace
after a beautiful trip to the mountain country
Grace upon grace showers down on me in these last few weeks
as I finally realize how dear they all are,
only when it's time to say goodbye.
And prayers fall from my heart,
on my breath as I have learned from holy people.
"Lord, help me to live these last few weeks—days!
one day at a time, in the moment.
Thank you for all the precious moments!"
11 days left, and I give thanks for:
-those mountains surrounding me for the last time : : homecoming over and over again
-American Cassinise Benedictines : : Mass with seminarians
-The Blessed Virgin Mary and St. Joseph, looking after everyone in that house
-knowing that Sara is at peace : : and it's not too late to get to know her better
-this post, making me even more grateful for the rich correspondences I have enjoyed over the last few years
Joining the Gratitude Community at A Holy Experience today and every Monday
(but there is only one Monday left until E-Day!)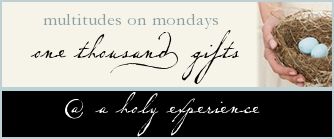 One day at a time...